Brandt – is a large Canadian company with a billion dollar annual turnover, over 1800 employees and multiple divisions to its name. The Agricultural Products Division, headquartered in Regina, Saskatchewan, is a specialised manufacturer and worldwide exporter of Grain Augers, Conveyors, Grainvacs, Grain Carts (chaser bins), Grain Bag Loaders and Unloaders as well a variety of other agricultural machinery.
Augers:
i). Conventional 'standard' and 'supercharged' augers
Brandt conventional standard and supercharged augers are fast, strong and tough and they look good too with a premium powdercoat paint finish. Their high quality construction is backed by a 1 year manufacturer's warranty.
Brandt 13" x 40' standard auger, direct PTO driveBrandt conventional supercharged augers have an expanded intake which allows them to pack the grain as efficiently as possible, maximising uptake and giving increased capacity of up to 23% over a standard auger.
The only difference between Brandt standard and supercharged augers is the expanded intake on the supercharged auger; the undercarriage, tubes, flighting etc. is otherwise the same.
Features of Brandt conventional standard and supercharged augers :
durable and tough
heavy gauge flighting and tubes
one-piece fully welded square-tubing undercarriage
heavy-duty heat-treated sprockets on discharge end for increased durability and performance
quick-detach tow hitch
bucket spout
polyhopper
high quality powdercoat paint finish
Several drive systems are available:
PTO belt drive – ideal for cropping farmers as it has a longer intake reach, allowing loading and unloading of silos.
Direct PTO drive – the most common auger we sell to dairy farmers as is usually only used for loading grain from truck to silo. Simple to operate, fast and efficient.
Electric motor
Petrol engine with optional "EZMove" hydraulic mover.
Sizes :
8" from 35' to 62'
10" from 35' to 50'
13" 40'
ii). Swingaway augers
Brandt Swing-Away AugerFeatures of Brandt swingaway augers :
twin augers in the hopper
'super-edge' flighting
hydraulic lift
two easy-access clean-out doors
high capacity chain-coupler transition
removable transition-area cover
extended-life PTO components
self-levelling hopper
continuously welded auger boot
Sizes :
10" to 13" in a range of lengths to 110'

For more on Brandt Auger features and specifications follow this link
Belt Conveyors (GrainBelts)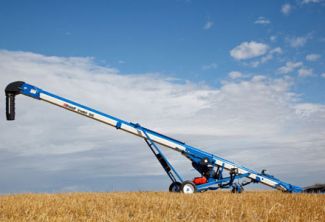 Brandt 1545LP conveyorBrandt manufactures a range of Belt Conveyors with a size suitable for most farms through to commercial operators, from 15' to 110' in length and with various hopper styles to suit particular applications. If you need gentler handling of peas, or need to shift ryegrass or carrot seed crops, a Brandt Grainvac is for you.
A Brandt "EZMove" hydraulic mover and a drive-over "GrainDeck" are additional pieces of equipment which can assist in making the shifting of grain more efficient, whether it be at harvest or enabling one person to do the job which previously needed 2 people.
For more on Brandt Belt Conveyor features and specifications, follow this link :
http://www.brandt.ca/Divisions/AgriculturalProducts/Products/Pages/Category.aspx?category=GrainBelts(Brandt)&cat=Products
Brandt GrainVacs
Brandt 5200EX GrainvacBrandt Grainvacs are fast and efficient with their exclusive design using fewer moving parts which means lower maintenance costs, increased reliability and extended life. They work on considerably lower horsepower requirements than other brands of vac, and have standard features such as a single door airlock, alignment-free Direct Drive auger system, overrunning clutch on primary PTO, dual-blade fan design … too many features to list here.
Best of all, although you're still advised to wear earmuffs, operators tell us how quiet a Brandt Grainvac is. Couple that with the hose tree which supports the hose, taking the weight off the operator, and you have the best value-for-money Grainvacs on the market. Dare to compare !
For more on Brandt GrainVac features and specifications, follow this link :
http://www.brandt.ca/Divisions/AgriculturalProducts/Products/Pages/Category.aspx?category=Grain+Vac(Brandt)&cat=Divisions